---
Steve, Gail, Daniel & Katie
We just wanted to say a huge Thank you for letting us have Holly, Jack and Elsa from you. They are the most loving, playful and funny dogs we have owned, they give us so much pleasure. Jack is a little rascal and we call him the loveable rogue but he is still young and playful. Holly has now matured in to a beautiful 4 year old choccy Cockerpoo and we could never be without her she brings us so much enjoyment.
Elsa is our latest edition, our red little madam, who is always into everything. You are a brilliant breeder who has always helped us with any questions or concerns we may have had and given us two healthy Cockerpoos. Thank you so much it is great to have met you and now have you as a long life friend. Thank you Victoria x
---
Chrissy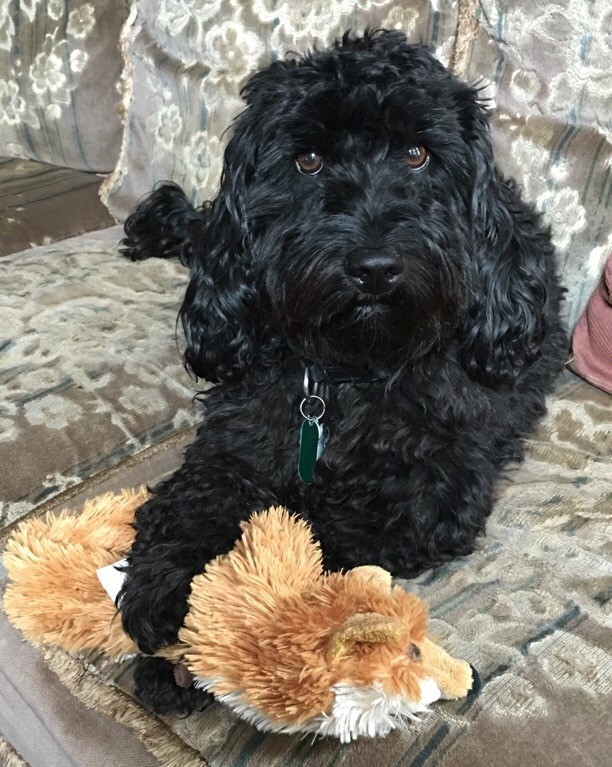 I still can't believe it's nearly 3 yrs since my gorgeous boy came into my life. I thank Victoria every time I look at him, for letting me have one of Fudge and Trish's little balls of fluff. He has such character and is the gentlest little man, everybody loves him. Thank you Victoria, you lovely lady.
---
Darlene & John Brookes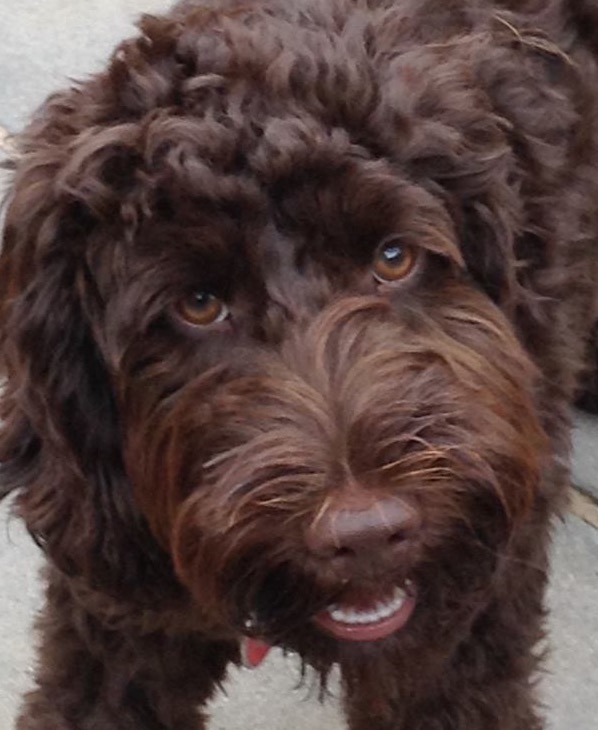 We met Buddy at a couple of days old and fell in love with him immediately ,you kindly let us see him several times until we collected him to bring him home with us . He is now 17 months old , loving ,lively and a brilliant friend to Harry our older Cocker Spaniel . We are so lucky to have him in the family , he is so friendly and intelligent. Thank you for letting us make him part of our family .
---
Jo, Jonathan, Jade and Jasmine
Hi Victoria,
We really do apologise for not being in contact since we brought Eric off you around the 19th December 2014, born October the 16th. You'll probably remember him by his rusty colour! We wanted to update you on how he is and what he looks like now (very handsome as everyone says).
Eric is a bubbly, crazy but amazing dog with the best personality. He loves socialising with other dogs, big and small, and his long walks by the canal (and falling in occasionally). We honestly couldn't imagine our life without him.
Thankyou so much,
Jo, Jonathan, Jade and Jasmine x
---
Mark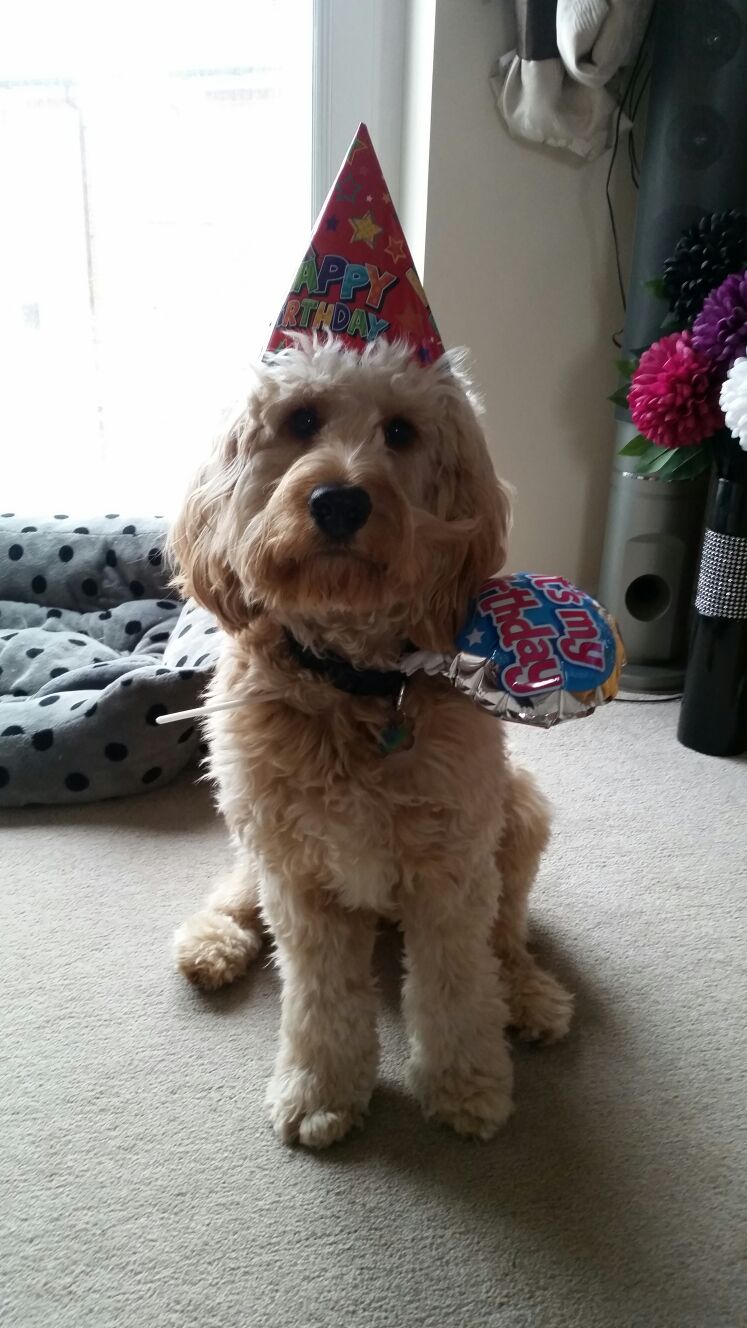 Hi Victoria. I hope you have been well. This is teddy at a year old. Thank you so much for letting us have him from you. He settled in from day one and is much loved from the whole family x
---
Liz and Dale
Hello, here's an update on Poppy. She's 6months old now and we wouldn't be without her! She's been amazing from the day we bought her home. First Christmas is over now and of course she's been spoilt rotten as usual!
Our first puppy and the best decision we ever made!
Thank you 🙂 x
---
Allison Andy James and Charlotte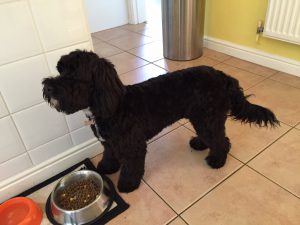 Thank you Victoria and family for welcoming us into your home. We chose beautiful Ella because even in those early days her good nature and character shone. Ella is now ten months old and has developed into a beautiful dog with a loving nature. Ella attends weekly training but thinks it's playtime! We can't imagine life without her. We do not hesitate to recommend Hollymow puppies, They truly get the best start in life with Victoria.
---
Carolyn
Hi Victoria
Thought I would update you on how Jessie is doing . We feel so lucky to have such a well behaved , contented puppy who is fantastic with our children and their friends. Jessie eats anything and is very well house trained . We have you to thank for that as she was nearly house trained when we collected her from you in May . Jessie loves going out for walks and enjoys being off her lead , socialising with other dogs . She has bought so much fun into our lives , and has a great nature. We are so pleased we got her from you as you had come recommended to us . Many of our doggie friends have said to us that Jessie must have come from a good breeder .
Many Thanks
Carolyn
---
Cathy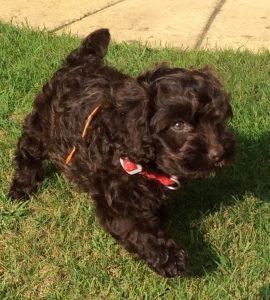 We picked Hollymow for our new puppy as we had done our homework before choosing just any old Cockerpoo. Victoria was lovely and called me when I made the initial enquiry and invited us to come to her home to have a look at the puppies. We were then able to go again at 5 weeks until we eventually picked up our little girl on the 4 th October at 8 weeks. She slept all the way home in the car no problems and soon settled in at our home. A couple of sleepless nights to be expected, probably our inquisitive cats annoying her! She is so good and goes to the door if she wants to go out and we have had hardly any mistakes. She is eating well, playing a lot and sleeping well. She has even learnt the command sit in the first week. We are so very pleased with her and the in laws love her and even called from Cyprus to see how she was. Thanks you Victoria for a fantastic puppy. Can't wait to take her out to show her off.
---
Sally and Andrew and a Woof from Rosie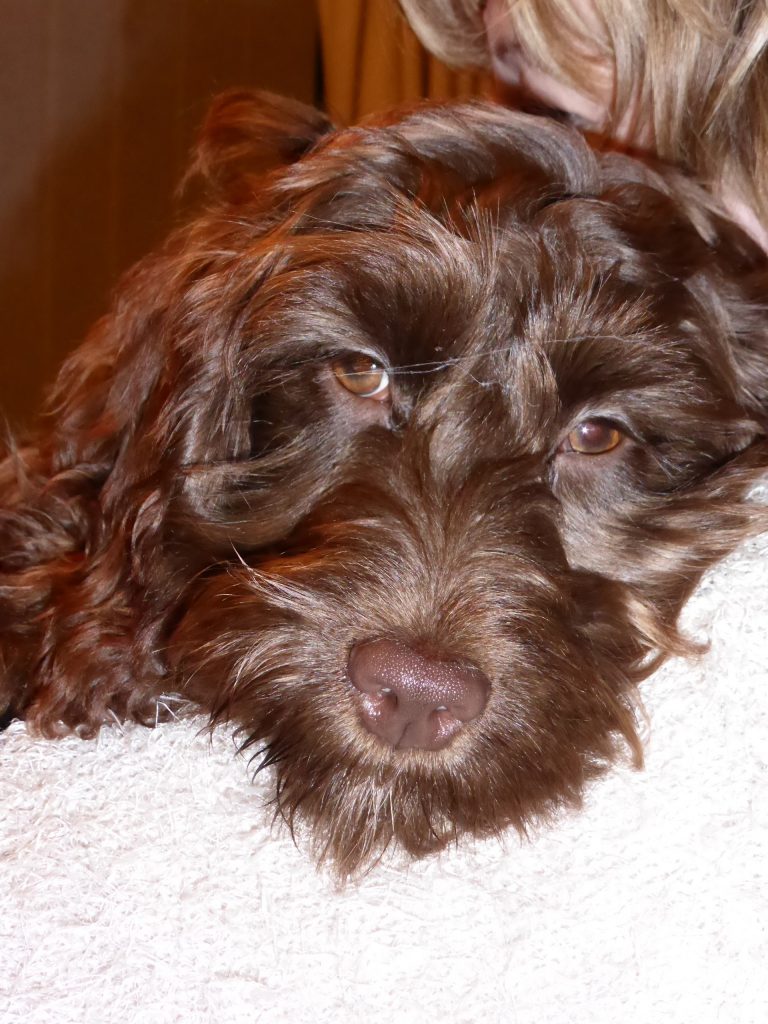 So sorry for not getting back to you sooner but we have been so busy with Rosie. Thank you so much for allowing us to take her she is an absolute delight.
As you know we were quite anxious about how we would cope with her but that was all forgotten as week by week we realised how brilliant she was.
she slept through from the first night and continued to be fabulous in the toilet training dept.
It's not only us that loves her to bits all our friends and families do too, in fact we have just returned from my best friends in Norwich who hate dogs apart from Rosie, and we are not allowed to go if we don't take her with us.
She goes everywhere with us and is on her second sleepover, good as gold at anyone's house, and doesn't chew or destroy anything which is great.
we haven't started proper puppy training yet but she already knows the basics like sit, wait, say please, give paw, fetch and leave it and let's us know when she want wee wee's LOL
I cannot begin to tell you how besotted we are with our loveable Rosie she has changed our lives and wonder what we did before she came into our home she brings us so much joy.
Thank you again Victoria we are so proud to own her
Warmest regards
Sally and Andrew and a Woof from Rosie xxxx
---
Claire Hall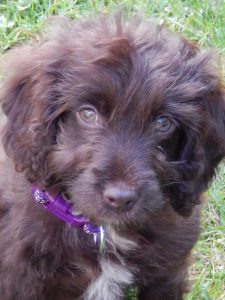 Hi Victoria
Just thought I would send you a message to say how pleased we are with are pup we got from you a few weeks ago, she has settled well and as I type this she is sat snoozing at my feet! She has such a sweet personality and we all love her to bits. here is a photo of her about 2 weeks ago sat on the lawn
Thanks again
Clair x
---
Simone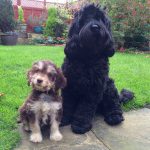 We've had Mojo for just over two weeks now and he's settle in just fine!! He's making his presence felt and is now best buddies with our other cockapoo Ozzy.
Thought you might like to see how he's getting on.

Kind regards
Simone
.
---
Jo, Ella and Olivia
Thank you so much for our beautiful orange roan cocker spaniel puppy born on the 20 April 2013. We came to choose him when he was just one week old (you very kindly let us take a little peek). He is the most perfect addition to our family and he was simply meant to be with us. I never realised how much joy a dog could bring to family life. My husband is now totally besotted with him as are both myself and my daughters. He comes everywhere with us and we are constantly stopped by people who want tomadmire him. Even the family cat is finally coming round! So huge thanks for making Henry possible.
---
Anthony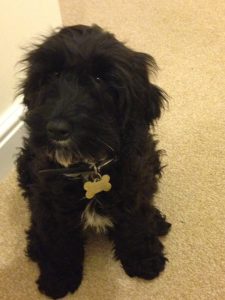 Darwin has settled in really well here and has a great personality although the cats are still sulking.
She has begun puppy training but even before she started she understands the commands sit, bedtime and NO!!! She however has taken a fancy to the sky remote control, my trainers and anything else that is in a reachable distance. I also won't mention the holes that she is digging!!!
She is loving walking and is comfortable off her lead and comes back to us when called. She is also making lots of new friends
Thanks you very much for allowing us to home Darwin – she feels part of the family and we are all happy that we got her.
---
Carly and Steve
Steve and I spent two years trying to find a cocker spaniel puppy from a breeder we trusted! After many phone calls and google searches We eventually came across Victoria who we spoke to, visited and who put us at ease straight away. There was no doubt that Victoria vetted us to check we would care for her puppy as much as we wanted to ensure she was a reputable breeder. Two days later we picked up Alfie who is now 17 months old, Victoria was always on Hand to answer any questions we had/ to offer advice. We couldn\'t have hoped for a more loving and friendly dog, we struggle to walk down a street without him being stroked and drawing attention. Our only problem now is my constant attempts to convince steve that Alfie needs a playmate 🙂 thank you x
---
Sally, Mark & Paige
Beau is our lovely Cockerpoo bought from Victoria in March 2013, Beau now is a city girl and lives with us in Paris. Victoria was brilliant from start to finish with helping us choose Beau, she kept her longer for us due to the fact we live in Paris and nothing was too much trouble for her. Beau has the most amazing character and is a delight to have around the house whilst I work from home. she is a well travelled little pooch who has her own passport!!, again this was down to help from Victoria and her vets. We cannot thank Victoria enough and are now thinking of another baby playmate for Beau, watch this space!! Good luck Victoria with future litters and we will always keep you up to date with pictures of Beau.love Sally, Mark & Paige in Paris xx
---
Marilyn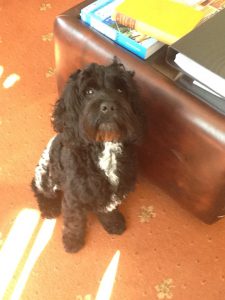 We purchased Max from Victoria exactly one year ago yesterday. He has been a gentle, loving dog from day one. Eager to please, very intelligent, and a funny and lively little character. A real testament to Victorias knowledge of the breed. We followed all the rules when choosing Max. Visited several times and were always warmly welcomed by Victoria, who was happy to answer all questions, show us Mum and Dad. We were encouraged to spend as much time as we could with Max. We would be happy to purchase again from Victoria.
---
Stewart, Beulah & KALI
Hi V ,
Just a massive THANKYOU for bringing our little KALI in to our lives .
Her first night at home was a breeze V , suprising after having so many people around her , very little wimpering but lots of sleeping she loves her food and is a JOY to have around (very funny at times ).
As I'm writing this she has had her breakfast and is now fast asleep in her bed (bless her ) and completely surrounded by love V .
Many thanks again V.
Stewart /Beulah / KALI . XX
---
Lou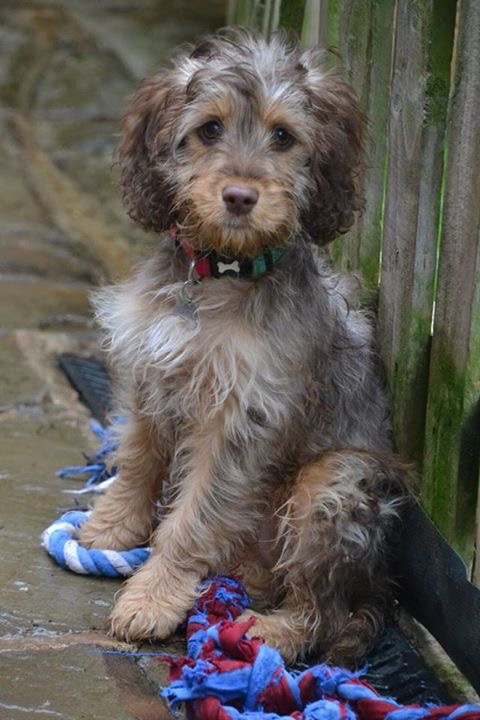 Hello Vicky
I just thought I'd send you a few photos of Delilah, she's grown so much!
The first is one shortly after we collected her from you, and the last two were taken today.
She's got the most beautiful nature and temperament. She rarely barks, only when she's told 'no'… Haha, she has a stubborn streak in her and always likes to have the last word, but ultimately does do as she's asked.
Her housebreaking was a breeze, we just picked up where you had got her to, thank you. She's good with her food, bundles of fun and likes to play a lot. She's so excited to see other people and dogs, always very very friendly. But she knows her own mind too!
Shes just a joy, although the cats still dislike her deeply, she's desperate to play with them. As you can see she's gorgeous and her colour changes almost daily, she's going silvery on her back. It takes ages for us to get anywhere with her as we keep being stopped by people wanting to fuss her and of course Delilah loves the attention!
I hope you are all well
Lou X
---
Rosemary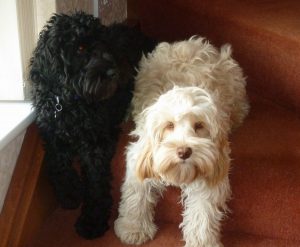 HOLLYMOW… Great kennels, great caring, great lady and the dogs aren't bad either!
We have two young unrelated Cockapoos from Hollymow kennels – one black (Oscar) and one apricot (Alfie).. They are delightful little dogs, extremely healthy, very sweet natured, terrific fun and such huge characters… Any queries I had about them when they were small puppies were always answered promptly by Victoria, for whom nothing is too much trouble when it comes to her dogs' welfare.
The only problem I have is in resisting the temptation to have a sable coloured one too, and I defy anyone to come away from Hollymow with just ONE puppy!
---
Kelly, Tracey and Kids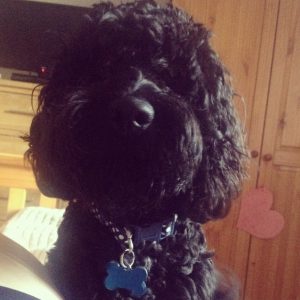 Wow what's not to love about Teddy our beautiful 10 month old black Cockerpoo.
We looked long and hard for a breeder we could trust and are so pleased we came across Victoria.
Teddy, his siblings and parents recieved so much love and good care. He was one very happy little boy when he came to us and thanks to Victoria giving him such a good start, and her advice dice has continued to develop in to a lovely, all be it slightly mad boy!
We really do love our boy, he is so full of character, friendly, great with kids and other pets and makes us laugh daily! He loves water, playing, talking and cuddles!
Thanks Victoria x
---
Karen
Victoria is a lovely person. She is supportive and very warm and friendly . A very genuine person . Please don't be afraid to contact her, if she can help you then she will.
---
Lisa
After knowing Victoria for quite some time now from my friend buying a pup from her , I have recommended Victoria to many people through my work (also a dog groomer) they come back to show me their beautiful dogs and they are so pleased! …. You can tell straight away they're one of yours Victoria! Because they are stunning! ….. One day I went to see Victoria for a catch up , low and behold a beautiful blue roan boy was sat in the pen, he was gorgeous and I picked him up "just for a cuddle!" Well thats dangerous, as I never put him back down! Yes I took him home, to join my 2 other spaniels, that was 2 years ago and my boy Jasper has turned into the most handsome, loving boy, many people comment on his appearance when i'm walking him, which is all down to the fabulous breeding of you Victoria and the genuine love, care and attention you give all your babies. Thankyou for being one of the rare genuinely caring breeders the dog world lacks these days. Keep up the great work and thanks for my boy! xxxx *** wrning if you go to "see" a pup you WILL end up buying!
---
Jane & Kev
'We were serious about getting the right dog from the right breeder. You hear so may bad stories and after an exhaustive trawl of local breeders we were undecided.
That's when a friend recommended Victoria. Once we'd met her at her place in Ollerton we just knew that she was someone that we could trust and have confidence in. It's clear how much the dogs mean to her and she's totally committed to finding great homes for her wonderful puppies. Its not just about finding the right dog for you, its about making sure that you're right family for the puppy.
Our Cockapoo, Barney is now seven months, he's full of beans and a lovely natured little dog. When were ready to add to the family and find a sister for Barney, Victoria will be the first person we call.
---
Teresa, Ivan and Lucas
Bess is one of Victoria's wonderful Cockerpoo's.
She is a lovely choccy girl with a glossy coat and a brilliant temperament. She is so sweet and good natured but very mischievous she makes us laugh every day and our life would be very dull without her. She plays wonderfully with our other Cockerpoo and it's a pleasure to watch them together each day. She is so friendly with other dogs and people when we are on our walks and we are constantly stopped by people asking about her and fussing over her. Bess was the smallest pup from the litter and is smaller than a lot of Cockerpoo's we have seen but this is brilliant for us as it makes it easier for our young Grandson to carry around and walk on the lead. Bess suits our family perfectly. She makes our life very special. Thank you.
---
Kate & Tony
We are absolutely delighted with Milo our chocolate brown Cockerpoo which we bought from Victoria. She was recommended to us by someone who had bought a Cockerpoo from her previously- it was well worth travelling up to Ollerton knowing that we were going to a trusted dog breeder – I have no hesitation in recommending Victoria (and we have done so many times since getting Milo resulting in more happy Cockerpoo owners!).
Milo is now 17 months old and is perfect in every way – he is friendly, playful and a truly lovely natured dog. Milo was a cross between a Cocker Spaniel and a minature Poodle and the good thing is that Victoria shows you both parents – which potential buyers are strongly advised to do.
It is very clear to see that Victoria loves all her dogs and that she is not just running a business. She makes sure that all her puppies goes to to a good loving home were they will be part of the family. We still keep in regular touch with Victoria as she loves having updates on Milo (and photos). Victoria is ACE!
---
Judith and John
Whilst attending our agility class with our Bearded Collie Maisie I happened to mention that we were looking for a cockerpoo puppy and Victoria was recommended by a fellow club member who had already purchased a puppy from her. We made contact with Victoria, booked a chocolate boy puppy,Ollie who is 2 1/2 years old now. He is the most affectionate, obedient and intelligent little boy so much so that we decided to increase our doggie family to three. So we once again contacted Victoria who very kindly allowed us to have a little chocolate sable girl, Lottie, who is 5 months old now. I have no hesitation in recommending Victoria as a reliable, committed breeder of top quality Cockerpoos.
---
Suzianne
" Hollymow Sable Queen" A.K.A Dizzy Izzy
From Day 1 this very special girl knew she had won my heart, and has kept tight hold of it ever since,Queen by name,, cheeky princess by nature. izzy has grown from a loving confident young puppy into a loving, confident, clever young lady, and is by far the most beautiful poochy ever, I could not imagine being without her.
Thank you Milly & Dexter
And Thankyou Victoria x
---
Iuan
Just wanted to say a huge thank you to Victoria for matching our gorgeous Cockerpoo Stella with our family. We have never owned a dog before so was extremely worried about finding the right dog to suit our family with three very lively children. A Cockerpoo is the most amazing dog. Stella is energetic, alert, playful, loyal and so loving. She is happy to play all day or is just as happy to sit with you. She was also very easy to train. Within two months, she could sit, lie down, leave it, fetch and wait with command and hand signal only.
Victoria is always just a phone call away to give any advice needed and settle any concerns I had, even now….and Stella is two and a half.
Many thanks to a Top breeder, Dog Groomer and now Friend for life.
---
Cheryl
I am in love with the Cocker Spaniels , and had my first Cocker Molly 8 years ago from Victoria, her knowledge of the breed , her help, and patience in choosing our first Spaniel made our weekly visits to see Molly very memorable , nothing was ever to much trouble …. Since having Molly our Cocker family has grown thanks to Victoria , her puppies are very well socialised and have the sweetest of natures THANK YOU Victoria I wouldn't go anywhere else if I was looking for another Cocker to join our happy household 😉
---
Corinne & John
We where thinking about getting another dog a friend for Flo, when on a dog walk we met up with Judith and her 2 dogs one being a Cockerpoo Ollie, she gave me Victoria's number who she highly recommended. I gave Victoria a ring and she was very helpful and gave me lots of info on the breed and lucky for us had 2 black puppies ready. We were there within an hour and there she was Mabel! adorable little puppy .I can honestly say she has the sweetest nature, so loving and funny and soo loves Flo. I cant thank Victoria enough for this bundle of fun she is a credit to her she sent us home with a puppy pack and is always happy to help if need be I wouldn't hesitate recommending Victoria's wonderful dogs.
Corinne & John
---
Ali, Mike & Boys
Hi Victoria. It's Poppy's 3rd birthday.She is such a happy dog with a beautiful nature. Everyone who meets her falls in love! Best wishes Ali, Mike and boys
---
Julie
I would just like to thank you Victoria for the 3 beautiful girls I had from you, Peaches, Harmony and Paige, all three have been an absolute delight,and I couldn't ask for more,all 3 were very well socialised and have become welcomed members of my family,I wouldn't hesitate to buy another Hollymow baby in the future ,and have already given your number out to several people.
The quality of your babies Vicky is outstanding,the care and love you provided them as babies,and the way you have cared for their parents as given Peaches, Harmony and Paige a good start in life, thank you so much for allowing them to become part of my life xx
---
Michelle
Thankyou so much for helping me buy the right puppy, your puppy's are truly amazing and very well looked after, he's now 4 years old and stunning. People always comment how gorgeous he is! You have always stayed in contact with us, and anything I have needed advise you are always straight back to me ! Thankyou so much Victoria I would definetly be coming back to you and will recommend you to my friends! Well done you for having such amazing dogs xxxx